Sales Enablement
Aug 2022
Sales Enablement
Many sales teams spend a lot of time on the phone with unqualified leads, speaking to people who aren't ready to buy – which is very time consuming and inefficient. This time could be spent with more qualified leads instead.
Some buyers will move far more quickly than others through their discovery, research and decision-making journey. The secret is in knowing who is reaching the latter stages of the journey and engaging at the right time.
The inbound marketing methodology – combined with marketing automation technology – provides insights to bring to the surface those most responsive to your marketing and nurturing. Once these educated, warm leads have been established, more technology can be brought into play to help salespeople become even more effective.
Inbound also makes your offline marketing more valuable by empowering you to turn lukewarm leads into warm prospects and then buyers – across platforms over time.
Automation doesn't have to end once a warm lead is engaged by your sales team.
The ability to use automated follow-up processes (and workflows) means your salespeople can automate more of their work. They can become much more effective.
New tools enable salespeople to interact in chat sessions, send follow-up email sequences automatically, to know when their emails are opened and to embed video and other rich content easily and quickly in these communications.

Bridging the Online/Offline Gap
This new approach to marketing may seem daunting. Creating and organising content for your buyers and then marketing that content may require a significant investment of time.
No matter what the return on that investment – and it is typically a significant return – you may well be thinking about the marketing you do today.
Some of it still works (to varying degrees) and you don't want to transition away from the old ways immediately, even if the results aren't what they used to be.
Moving to an inbound model of lead generation is not something you do overnight.
Inbound marketing can co-exist with traditional offline tactics to improve results.
If you place an advert in an industry magazine and someone sees that ad but they aren't ready to buy yet, what are the odds of them saving the advert and coming back to you in a couple of months' time when they are ready to buy? Not very high.
Businesses that nurture leads make 50% more sales at a cost that's 33% less than leads that aren't nurtured. Source: Hubspot - State of Inbound 2018
Inbound marketing can build a bridge between this tried and tested (albeit increasingly less effective) old-school approach and your new inbound thinking.
Suppose your ad gave your prospects an online place to go to find more information – such as a special landing page on your website?
You could make an offer to these visitors in exchange for them disclosing their email address and permission to send additional information that would be of value.
This would then allow you to follow up with an automated process over time in order to nurture your new lead with valuable and relevant content.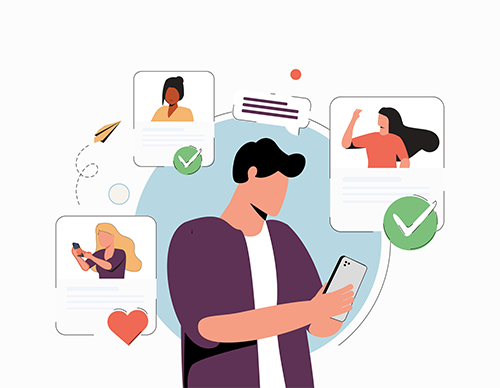 Download our
Marketing Automation Whitepaper Here