Salespeople: How to Close More Deals and Make your Job Easier
Sep 2022

Salespeople are the lifeblood of any company. This is why we think it's so important for sales teams to have the best tools and technology at their disposal. In this blog post, we will discuss a few of the most important technologies for salespeople; An effective CRM, and a brilliant marketing automation system, combined. These tools are essential for sales teams to generate leads, close deals, build meaningful customer relationships, and increase customer lifetime value. Save time, effort, and money by arming your salespeople with these tools.
A Brilliant CRM System
A CRM system is a customer relationship management system. It's a software that salespeople use to manage their leads, customers, and deals.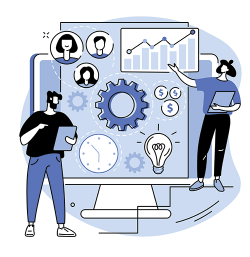 A good CRM will help salespeople keep track of their leads, customers, and deals in one place. It will also provide them with valuable insights into their leads' and customers' behaviour, along with important company or personal updates.

A great CRM system will help your salespeople find and delight your next customer in a landscape that is evolving ever more quickly.

A CRM system's goal should be to improve customer service and delight customers at every touchpoint - Generate more sales and ultimately increase profitability.

Customer Lifetime Value is an incredibly important metric in business, and knowing how to use a great CRM to solve the right customer's problems while exceeding their expectations will set your sales team up for success.
If you'd like to discover more about Intergages CRM system, check our website here.
Our CRM system is like no other, including engagement scoring, company/individual tags, and a unique, user-friendly interface.
Effective Marketing Automation Software
Marketing automation is software that salespeople use to automate their marketing tasks. It is a tool that helps salespeople save time on repetitive tasks, such as emailing leads, sending follow-up emails, and scheduling appointments. Marketing automation also allows salespeople to track their leads' behaviour and receive important insights into their leads' interests.


If your lead is interested in a certain page or document, creating specific campaigns to trigger surrounding these interests is a valuable way to nurture leads through their buyer's journey. (If you'd like to read more on the buyer's journey, visit our blog about it!)

By using a marketing automation system, salespeople can save valuable time by focusing their marketing efforts on leads that are interested and engaged.

If you're interested in learning more about our Marketing Automation technology, please visit our website or contact us, we would be happy to show you how Intergage can help your business grow.
A Single, Cloud-Based, System
Intergages technology is based on a single, cloud-based system.
Pairing our CRM and marketing automation technologies, you can gather information from your business website, trigger campaigns, and nurture your prospects all automatically, 24/7.
If you have any questions about our technology or how it can benefit your sales team, feel free to visit our website or contact us. We would be more than happy to show you how we can help your business grow.