Understanding Sales and Marketing Technologies for your Website
Aug 2022
Understanding What Technologies your Website Needs for your Brand
What and Who your Website will be for
Understanding your website's purpose, what you want users to do on the site and how it will be measured when successful are all incredibly important aspects of creating a new look for any brand
Alongside this, its crucial to understand your sales and marketing operations and understanding your market fully.
What is your outbound lead generation process? How are leads qualified? What is the average lifetime value of a customer? How do you segment your markets, and whom do you see as competition?
Are you wanting to attract the right traffic to your website? Read our blog on how to do so!

Understanding your Sales and Marketing Technologies
Once these subjects are delved into, and you have fully asked yourself "How will this new website help?" and "What does success look like?" you can then move forward into understanding your sales and marketing technologies, and what tools you use or are going to use.
Filling out the table below can give you some guidance on discovering what tools you already use, and what tools you could use in the future.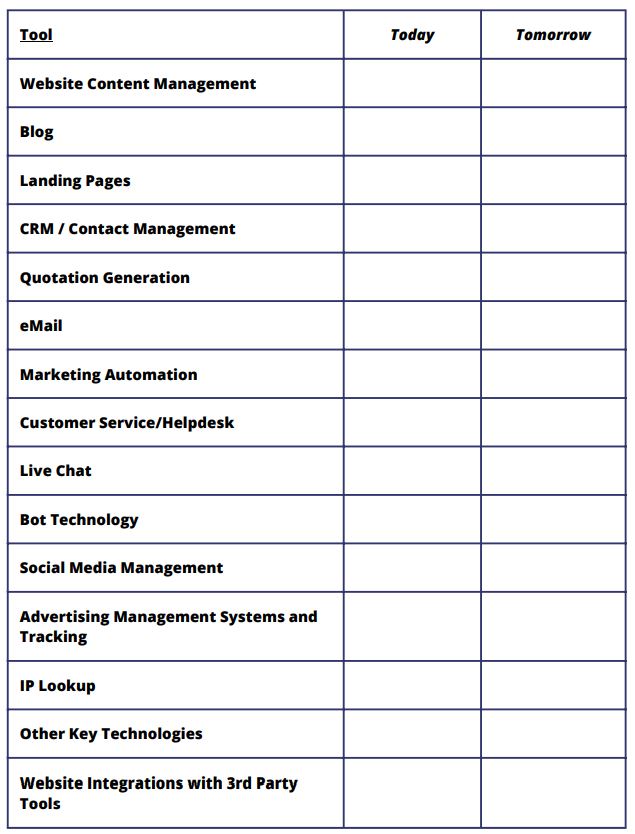 Or, read our blog!