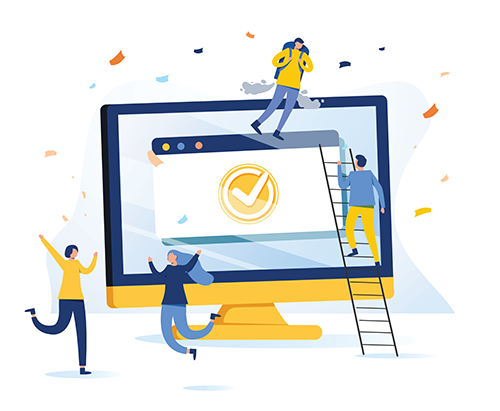 B2B Website Design

Our typical client is an ambitious B2B sales and marketing organisation. For them, a website is an important communication tool for both new and existing customers. They don't tolerate flaky websites. They don't want to hear excuses for downtime, poor integration or second-rate support. They need a website (and a technology partner) they can rely on.
Our customers want B2B websites to be functional and beautiful. We craft elegant websites that blend functionality with form - to look good and deliver results.
Today a website is often a strategic component of a bigger solution. Integration with CRM, customer support and other marketing systems is becoming normal.
We also provide CRM and marketing automation systems - offering complete online solutions for acquiring and retaining customers.
Master the Web Design Process
Website projects can be tricky. If you want to build a website that:
you are proud of
your customers find useful and easy to use
ranks in search engines for the right phrases
that converts visitors to leads
This takes time and skill.
Intergage has been building elegant, functional, search-engine-friendly, and updateable websites since the turn of the century.

We've built hundreds of websites and gathered an enormous amount of experience - developing a process for mastering a web design project we'd be happy to share with you.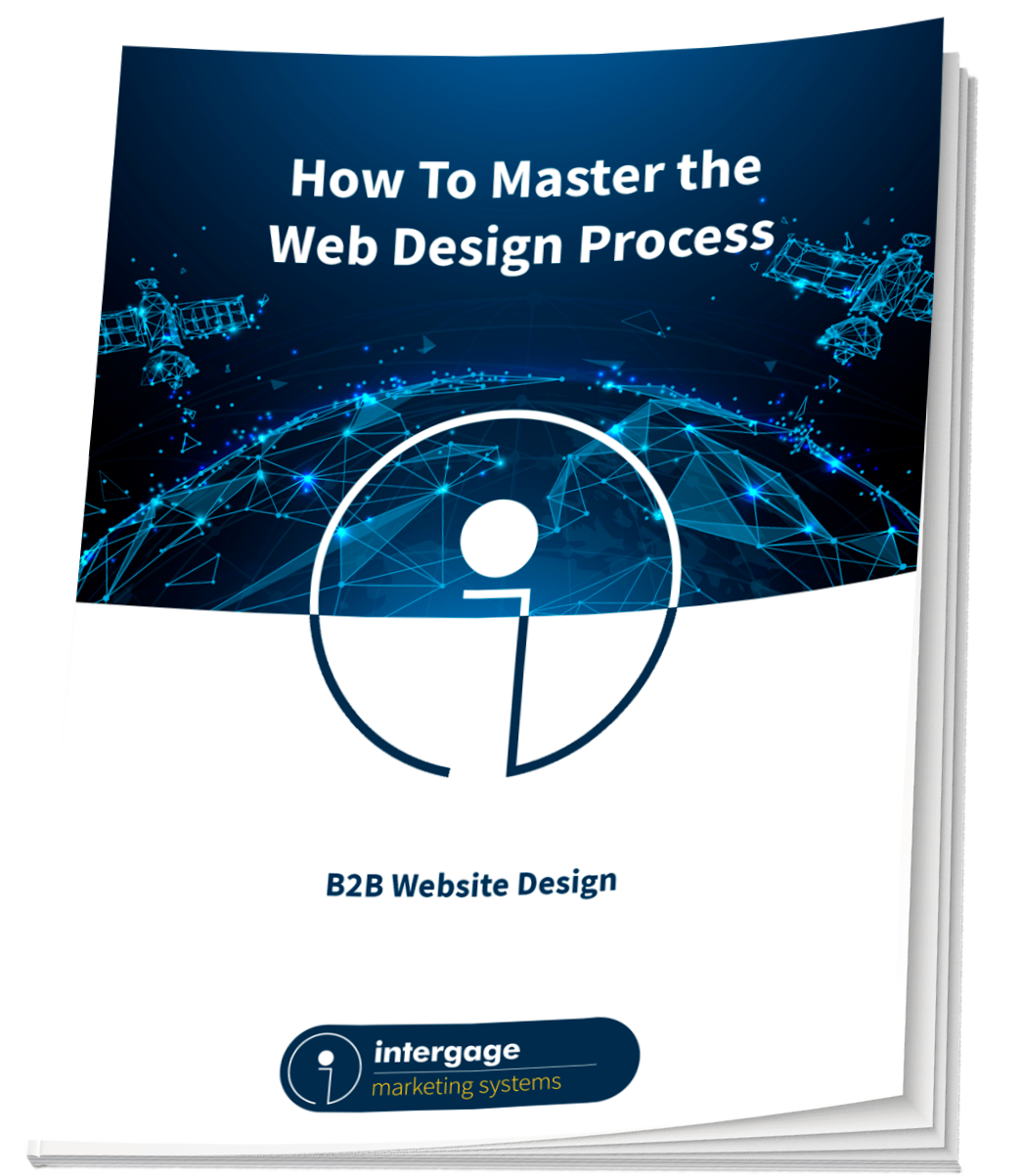 A Strategic Approach to B2B Web Design
The chances are that every potential customer will visit your website at some point on their buying journey - it must be as reliable, modern, and customer-centric as your customers expect your business to be.
Whether you are building a brochure site, a lead-generation site, or a sophisticated e-commerce website, defining what success looks like is critical to a successful project. So too is understanding what works (and what doesn't) on your existing site. Nobody wants to throw the baby out with the bath water. Throwing away hard-earned, vitally important, search-engine rankings because a project got rushed, makes no sense (and is surprisingly common).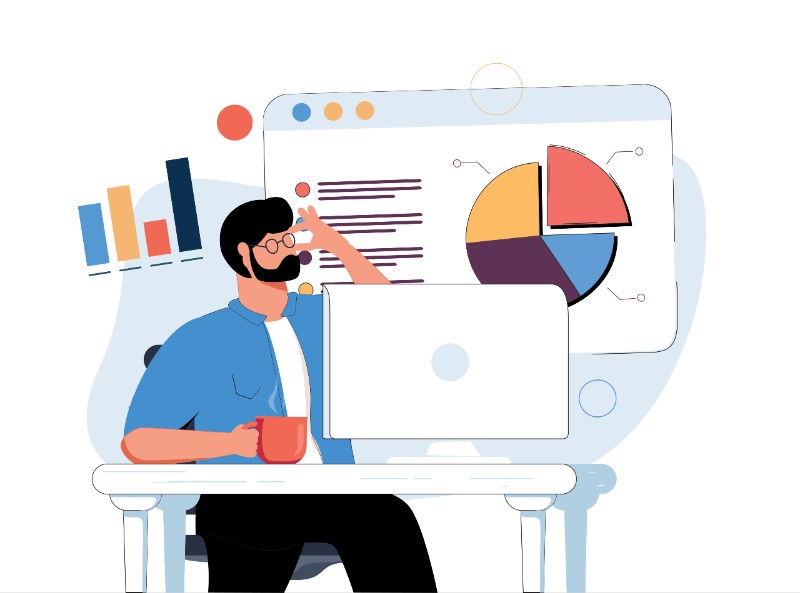 An Outside-In Perspective
There is only one thing we can do for your business better than you can do for yourself; to look at it from the outside in. Trying to understand what your business looks like to a stranger is like trying to read the label on a bottle from inside the bottle.
Your website partner needs to provide frank, honest feedback. The best partners for a website build tell you what you need to hear, which may not always be what you want to hear.
That's why our number one corporate value is courageous honesty.
B2B Website Portfolio
B2B Websites should be both elegant and functional. A website - perhaps more than any other marketing asset – will speak to your potential next customer of your values, your offer, and your approach to business. Get this right and you'll be proud to say, "Our website address is…".
These Intergage clients are justifiably proud of their B2B websites.

DDC Dolphin
A UK manufacturer of infection control solutions, DDC Dolphin chose Intergage because they wanted a more reliable, secure, and stable website platform than the open-source solution they were using. The project involved refreshing the look and feel across all devices and providing the DDC Dolphin team with the ability to update and manage the site in-house.
Our sister company, Intergage Marketing Engineers continues to work with the DDC Dolphin team on ongoing marketing and lead generation projects.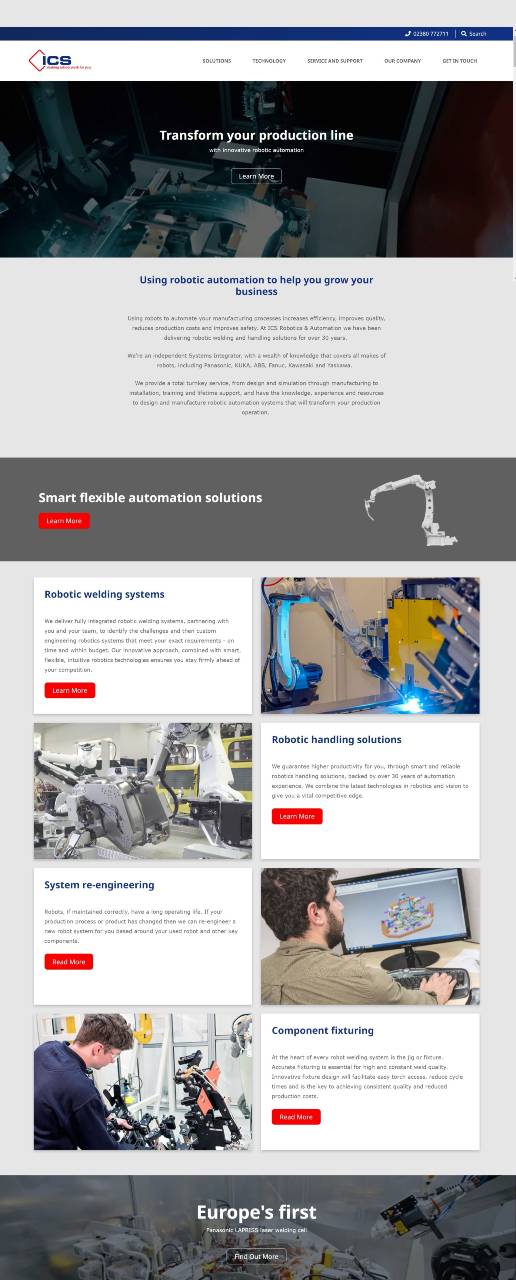 ICS Robotics
Robotic automation solution specialists ICS Robotics helps manufacturing businesses increase efficiency and reduce costs. The ICS team wanted to showcase innovative new technology (hence the video banner on the home page) and refresh their website to work on mobile devices as well as it did on the desktop.
The ICS team has since gone on to add online CRM to the website content management application and are currently implementing a sales opportunity tracking system to help them manage their plentiful and high-value sales opportunities.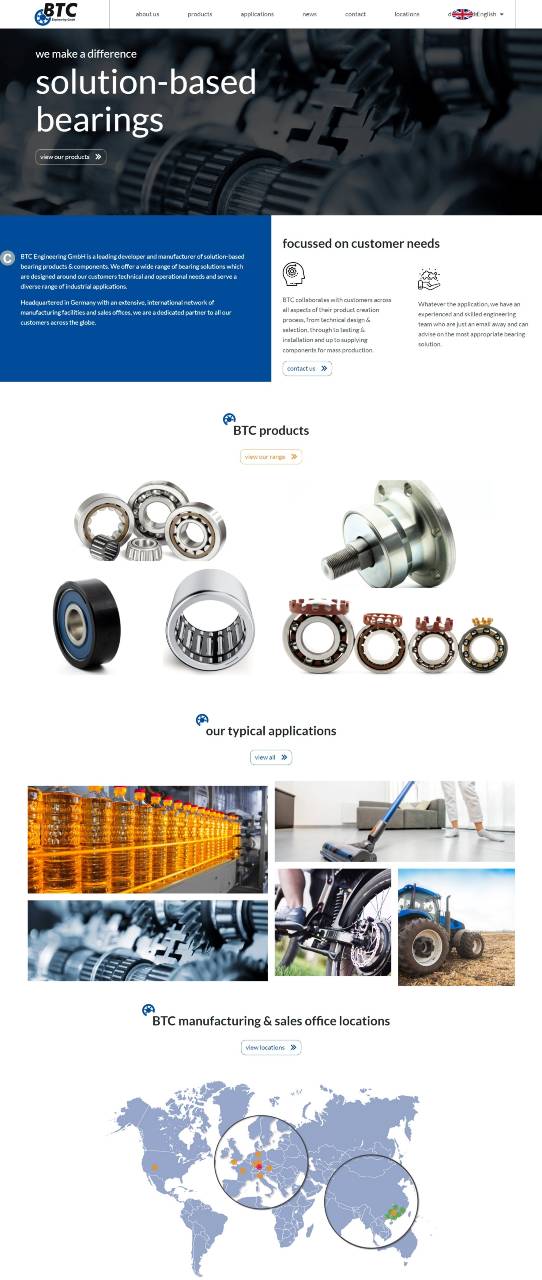 BTC Engineering
This German manufacturer of solution-based bearing products & components wanted to create both English (.com) and German (.de) versions of their website and to ensure complete GDPR compliance. BTC's sister company Barden Bearings recommended Intergage following a long and fruitful relationship.
Built within the framework of the firm's brand guidelines, these sites are both managed from a single website content management system - enabling the team to log on and manage either site from anywhere in the world.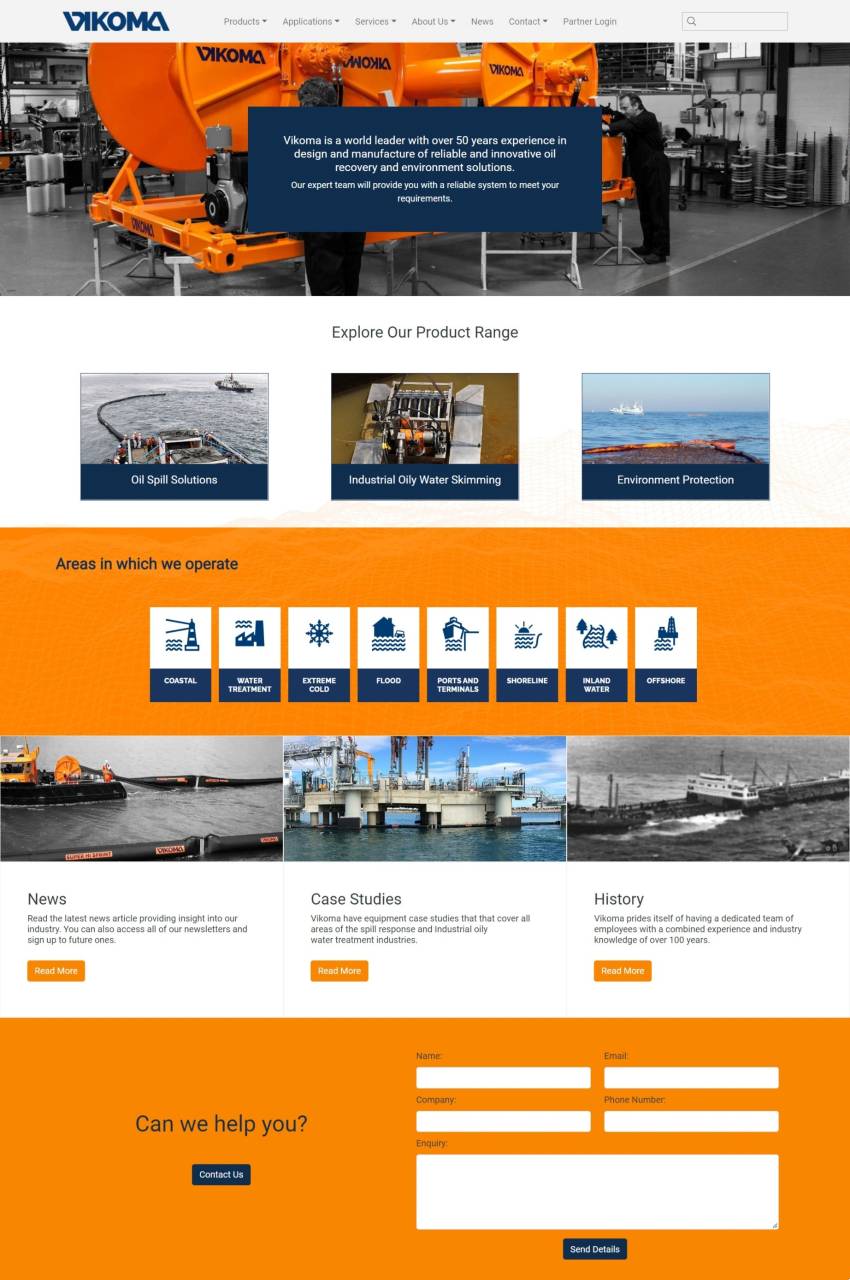 Vikoma
Vikoma is a world leader in innovative oil recovery and environmental solutions, with over 50 years of experience. The business is well-known for its oil-spill solutions but also provides environmental solutions such as flood barriers and inlet/outlet protection for waterways.
The Website banners feature black and white images with highlighted orange elements - a classy touch that re-enforces the Vikoma brand. Contact forms at the foot of every page capture the page the visitor was on when they completed the form.
Vikoma has a long-standing relationship with intergage and has recently upgraded to the latest version of the Website Content Management System in order to have maximum flexibility over the format and design of web pages.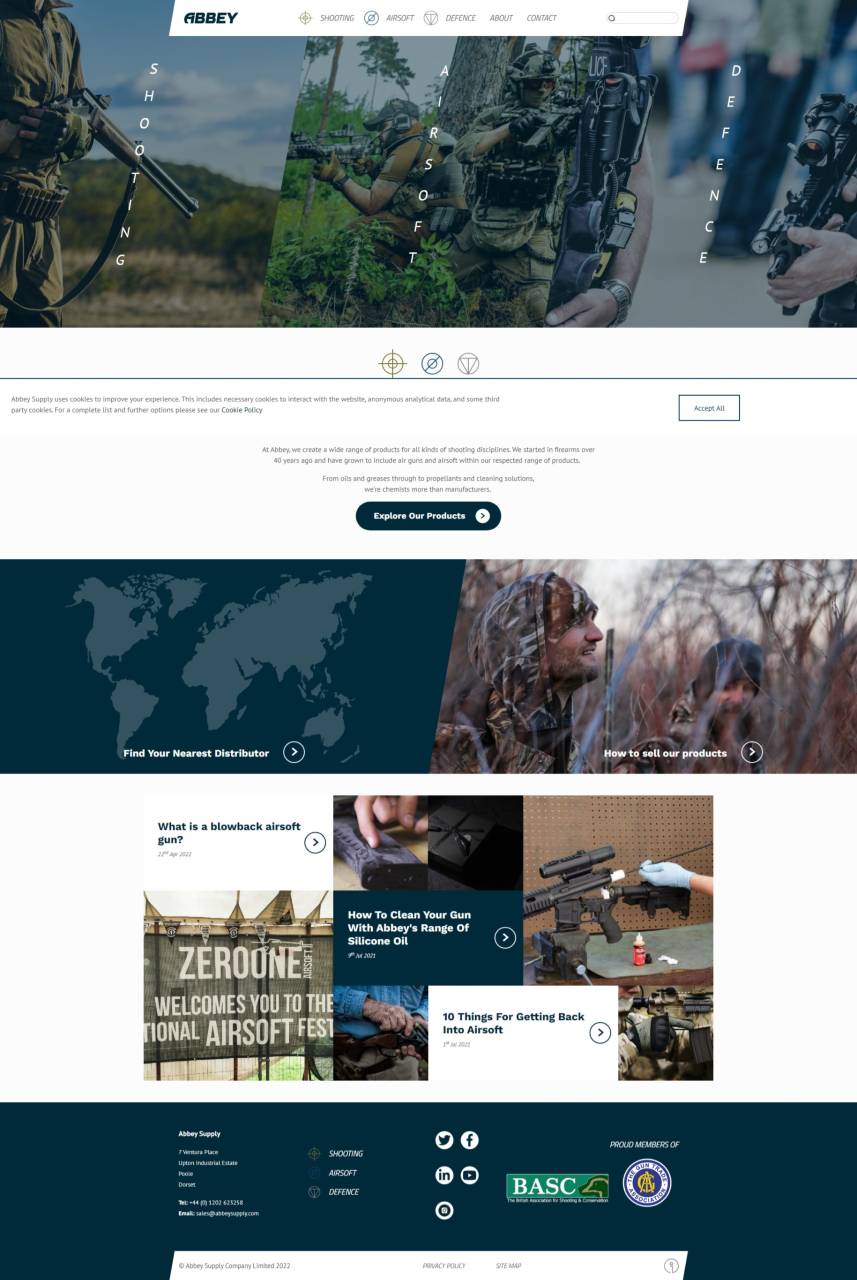 Abbey Supply
Abbey Supply is a trade-only distributor of maintenance products for guns for recreation, sport, and defence. The business specialises in Airsoft recreational products and sells via an international network of resellers.

This is a small information site that projects an image the small Dorset-based business is delighted with. The header is interactive, the menu system is simple and attractive and the site features video content and product information for the gun enthusiast.

Abbey Supply will soon be adding the CRM module to their website content management system. This will enable them to combine their customer database with their website - allowing content personalisation and generating insights about which customers and potential customers are visiting their site.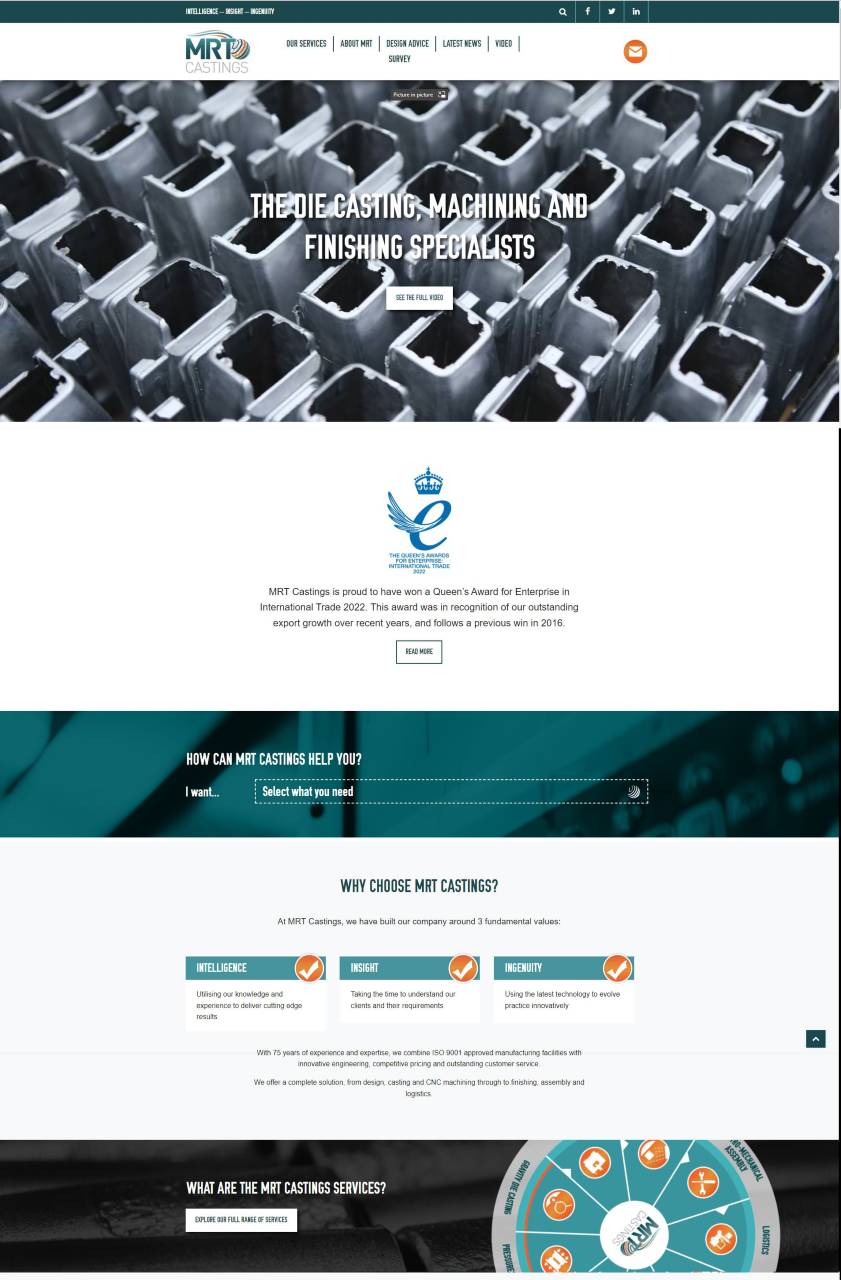 MRT Castings
Intergage is proud to be associated with MRT Castings - a multi-award-winning business that has experienced outstanding growth in recent years. MRT has invested heavily in new premises and capital assets which it is keen to showcase. The website does this with video throughout.
The MRT site gets right down to business with a drop-down menu that directs visitors to the solution they require and features visually engaging custom features like the "Services wheel" for those who are not familiar with the breadth of services MRT offers.
Coming Soon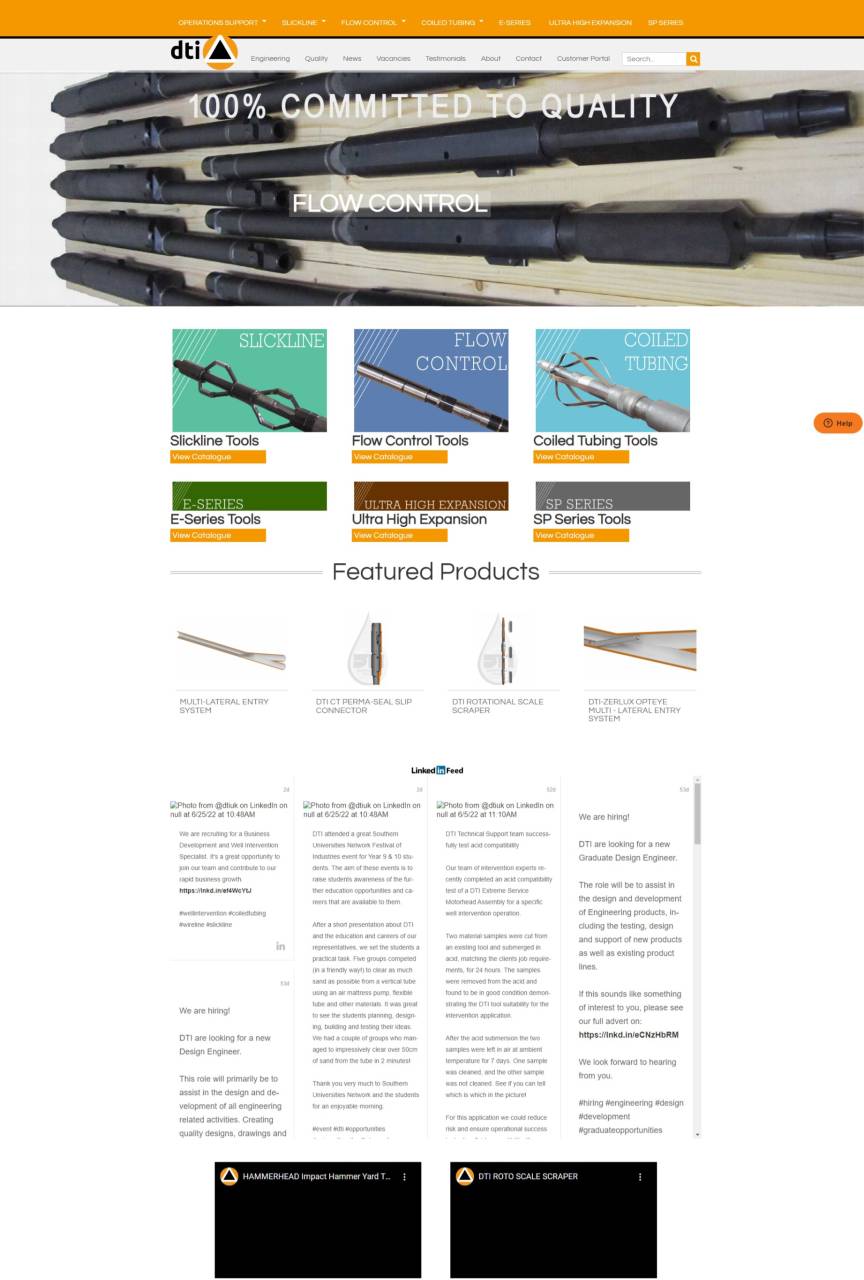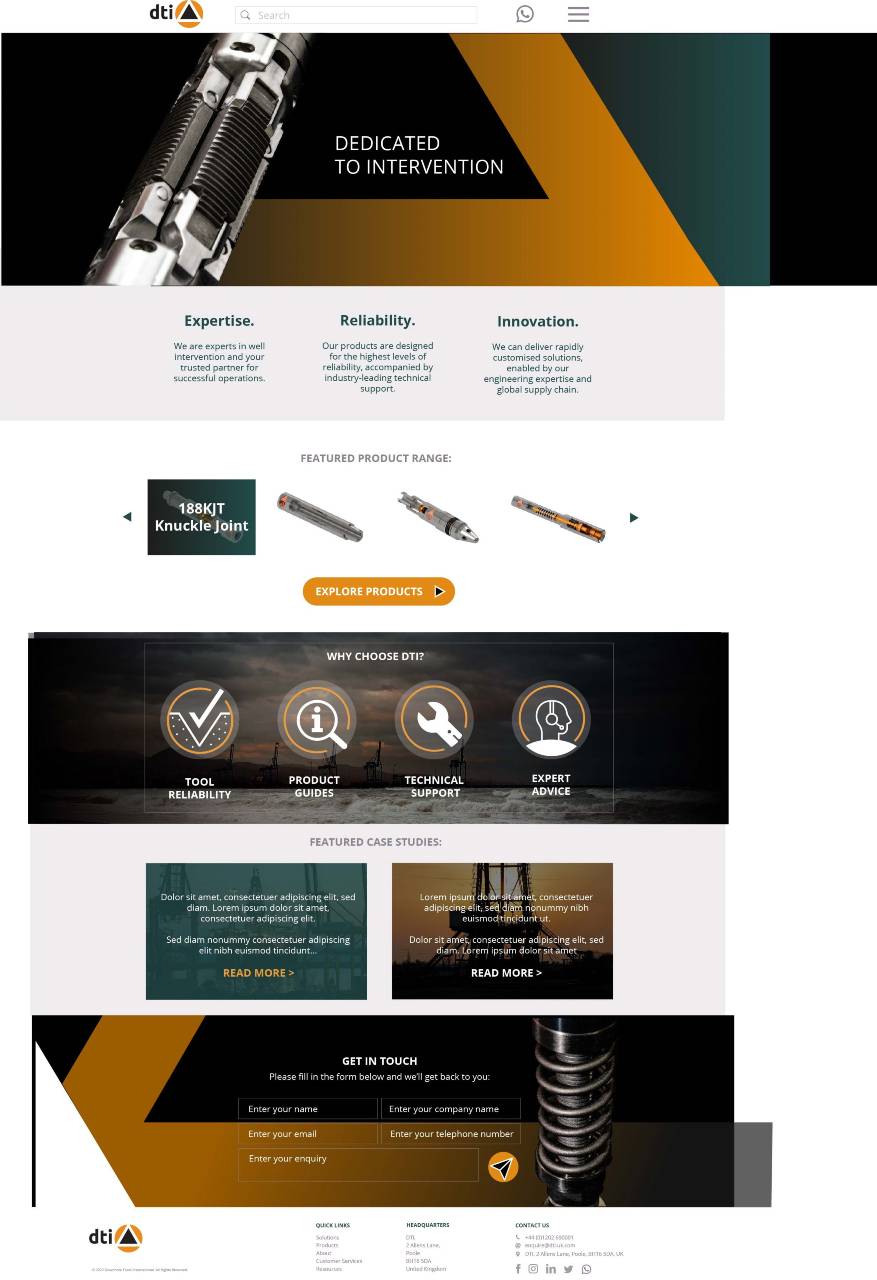 Why Intergage?
DTI chose Intergage Marketing Systems due to the comprehensive nature of the solution available. They were reassured by the clarity of the process and the journey they would embark upon. The ability to provide a premium design was also important.
The client was looking for:
a beautiful, premium website design
a design in keeping with their brand update.
How is Intergage Marketing Systems delivering?

Intergage is working through the 5-phase Website journey with DTI (download the white paper on this page for more information).
This journey began with discovery and audit followed by a messaging workshop, then wireframing of key page layouts and designs.
We are currently in the build phase of the project.
5 Types of Website Project
How much does a house cost to build? It's a daft question without context, of course. Even a broad estimate depends on the size, location, quality, and features of the house you have in mind. A detailed answer will require the architect's drawings. Without a plan, it's impossible to say. The same is true of a website.
There are five approaches to website projects:
The website journey - You know you need a new website but you need to work through what you need and why - ideally paying for each step as you go.
Build to your budget - You have a budget and you need the best result possible. You want to understand the stages of web design and allocate a budget to each stage.
Specified by you - You give us a detailed brief – typically website page wireframes – and we'll price the build based on your detailed plan.
Growth-led design for new websites. Build a minimal viable site, launch it and test it as you go. Grow and invest in it as you discover what your visitors want and engage with.
The technical "lift and shift" - moving your existing website to a new platform in order to take advantage of new possibilities (e.g. CRM or Marketing Automation)
The B2B Website Design Journey
The journey to a new website can be up to several months. Allow enough time for your project, get prepared, and go into this with your eyes open. No website project is painless. You will have to invest time and effort and our questions may well make your brain hurt! A typical project will involve: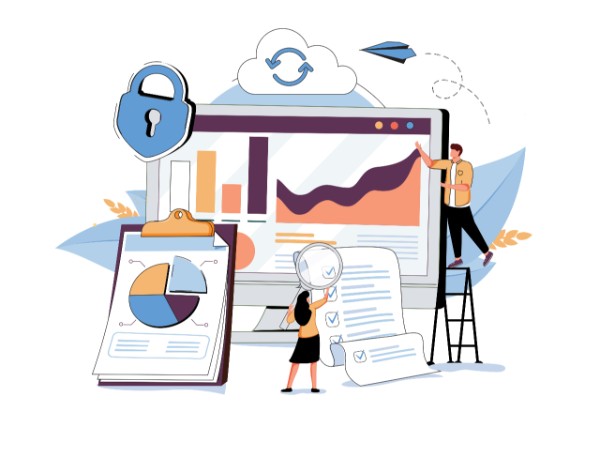 Analysis to evaluate the current site's situation, performance, competitors, and competitive position
Strategy to agree upon realistic and achievable project objectives within budget
A messaging review to ensure that your business is differentiated from the competition, sales messages are sharp, persuasive, current, and relevant to the audience
Specification – agreeing on the structure and architecture of the site
Wireframe and content audit – establishing the assets required (pictures, videos, and copy) and what needs to be reproduced, imported, refreshed, created, or re-created.
Content creation (graphics, infographics, video, images, photography, copywriting, etc.)
Design
Build
Testing and QA
The role of the Project manager is critical and cannot be underestimated. The Project manager will be tasked with keeping the website project on track and ensuring that the process is followed. Customers are asked to sign off at every stage to ensure that the project ends with a finished result that will make our next great case study. Each discreet stage has value.
B2B Website Guide Prices
We typically work on projects in the range of £7.5-£30K.

Can we do them more cheaply? Yes, of course. It's technically possible to build a simple website in a day or two, but the price depends on:
how big the website is
how beautiful the result is required to be
how much bespoke functionality is required
how much work (research, strategy, and messaging) the client has done in advance
how involved the client wants to be
and how well-prepared the content is.
If you are interested, we will happily sit down with you and share examples.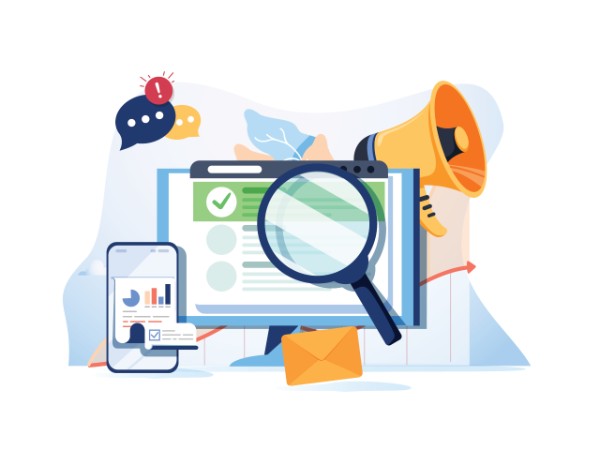 Your Website is Never Finished – The Case for Content Management
If you want your business to be found in search engines when your next potential customer looks for a solution to their problems, then you'll need to keep your website and blog up to date with the information that your customers will love. For that, you'll need a content management system (CMS). Intergage websites are all built using a CMS which means you can update your site yourself and add new pages and new page sections whenever and wherever you need to.
It costs nothing to talk
With over 20 years in the business, we have solved almost every imaginable website problem. Sit down, have a coffee and talk to us – an initial consultation is free
Add CRM To Your Website
Imagine knowing which of your customers visited which page of your website or blog. Would you be interested to know what they downloaded, watched, or engaged with? Would that help you and your salespeople identify more opportunities?

Imagine being able to personalise the content of your website to each customer based on their industry sector or job role. Would that help you make your case more persuasive?

Our cloud-based CRM modules do that and more - managing and scoring real-world engagements such as calls and meetings as well as online engagements such as emails sent, opened, links clicked, and pages visited to surface new opportunities. Your CRM system will tell you how engaged with your business your important contacts are both online and offline.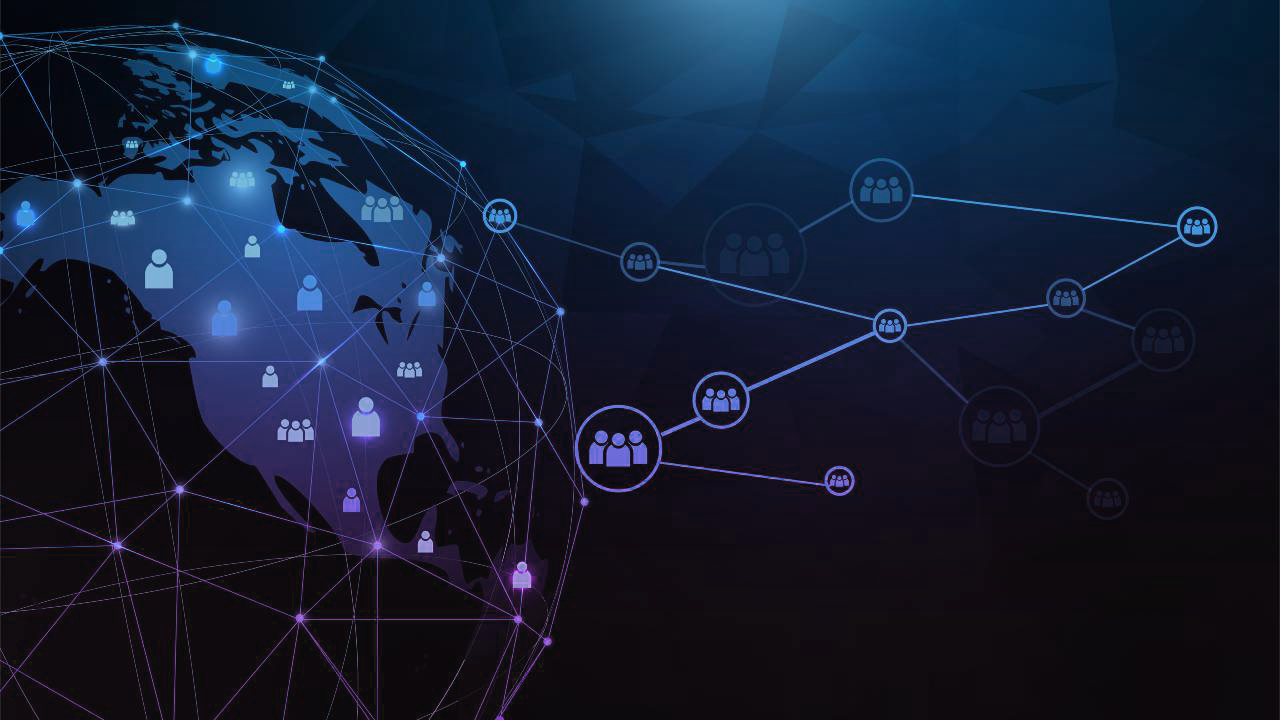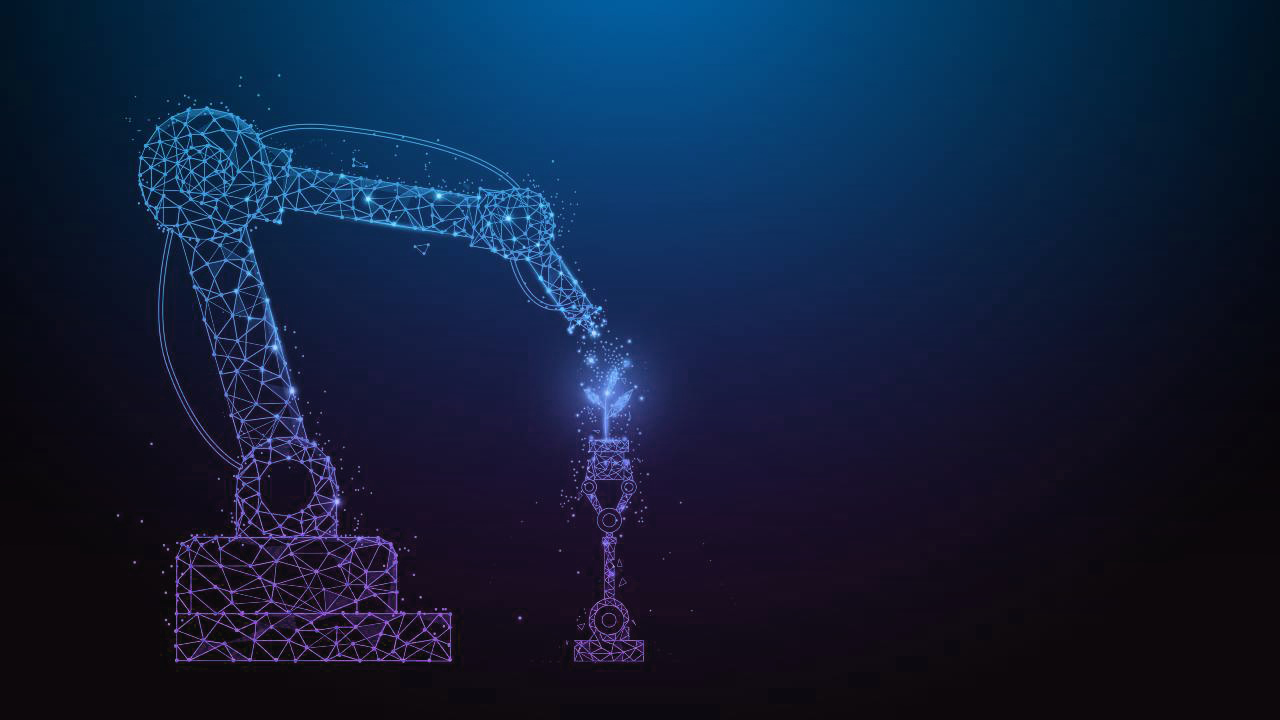 Add Marketing Automation to Your Website
Imagine being able to watch your customer engage with your new website content and demonstrate interest - perhaps by visiting a pricing page, watching a video, or downloading a white paper. Now imagine automatically enrolling them in a marketing campaign as a result.
As the marketing campaign is delivered, your customer opens e-mails, clicks links, and engages with more content. You notify your sales team automatically. A follow-up call is scheduled by the system.

Marketing automation just served up a warm lead on a plate!
It Costs Nothing to Talk
With over 20 years in the business, we have solved almost every imaginable website problem. Sit down and talk to us. An initial consultation is free of charge.
Book an Initial consultation now