Enhance your Website's User Experience with Mobile-Friendliness
Dec 2022
More People are Using Their Phones to Browse the Internet Than Ever Before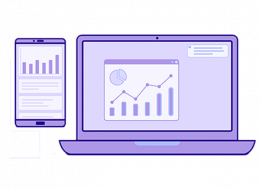 Your website is your online salesperson - more often than not it is built to increase sales and conversions - why exclude a wide demographic from that opportunity?

According to Exploding Topics, 62.06% of website traffic comes from mobile devices as of 2022. They also predict there will be over 1 billion 5G connections worldwide by 2025.

In this blog post, we discuss why and how you can make your website mobile device friendly
Making your Website Mobile Friendly is a Cost effective way to boost SEO
Google's algorithm prioritises mobile-friendly websites, keep your rankings high by ensuring your website is multiple-device friendly.
Ensuring your website is mobile-friendly is an important investment to make in the short and long term. Mobile-friendly, dynamic websites are the future of website design - ensure you're staying up-to-date.
It's Easier Than Ever to Make your Website Mobile Friendly
Having a mobile-friendly site has become critical to your online presence and brand. Your priorities should be to make it as easy as possible for customers to browse your site.
It's now easier than ever to create a mobile-friendly website, with various CMS' - including Intergages own - have mobile toggle settings to switch between desktop view and mobile.
Ensuring the layout of your site is consistent between the two is important in many ways, including brand identity and navigation, and being able to toggle and compare desktop and mobile is a great way to ensure this.
Responsive Design is the Way to Go

As stated, over 62% of Website traffic comes from mobile devices as of August 2022. This will only continue to rise as mobiles advance. Keeping your website dynamic and up-to-date.

Mobile-friendly websites are becoming more essential to your business's success. Boost your SEO and conversion rates by making your website responsive today.
Take your business to the next level with a responsive, lead-generating website.

Click here

to find out more about how we can help you succeed!