WCM Event a Success!
Apr 2022

It is not an easy task to make content management and website changes glamourous and exciting but we think we managed it!
Advising and helping clients with small changes and intricacies in the CMS that they might not have known before as well as offering new time-saving tips so that the day-to-day website tasks are not arduous. Below we have outlined the topics covered as well as a video of the event with time markers.

Topics Covered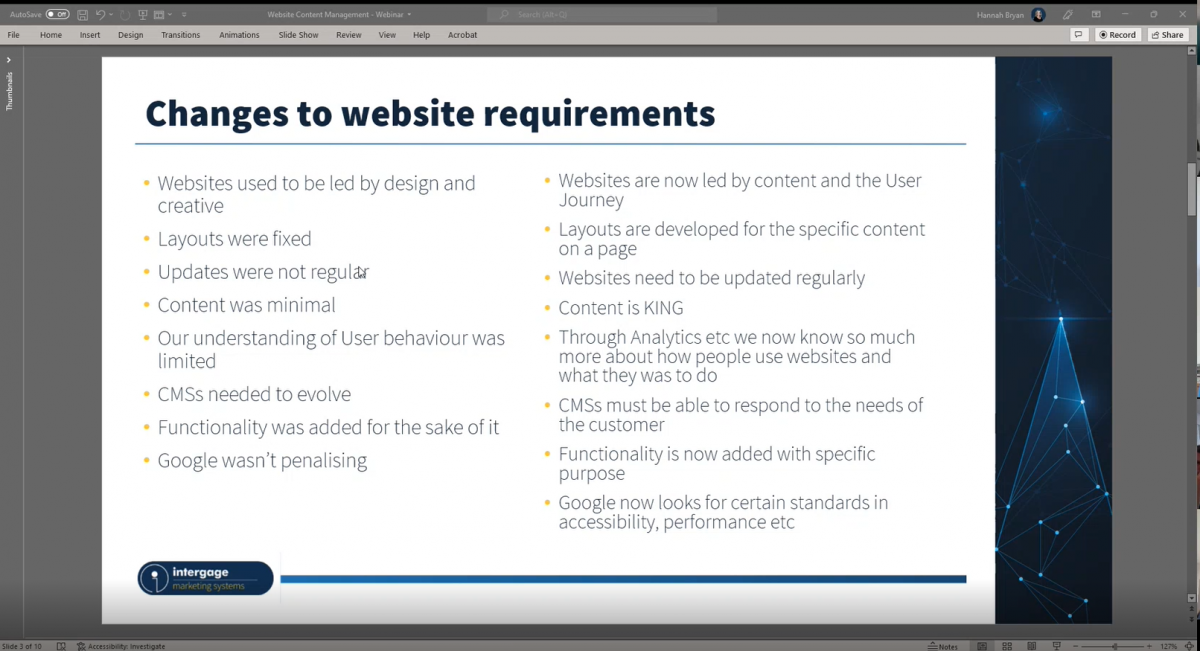 For those of you that were unable to make it last week, we have put together a brief edit of the webinar to try and show some of the talking points we discussed in the event.
It is the full webinar and is approx. 1 hour long so please don't feel like you have to watch the whole thing! Have a quick read through the reference times below and see if there is anything that takes your fancy!
Webinar Video
The list is here if you'd prefer to skip to particular sections:
Intro - Hannah Bryan - Why we have improved - 0.00-3.00
Content is king - 3.55
'We bake a cake, then Ice it' - 4.30
Changes to the build process - 6.10
New Log in - 10.20
New UI - 11.50
Mobile preview - 13.45
Where are my other tabs? - 14.55
Question mark help - 16.45
Specifics of Launchpad - 17.37
Sticky Menu - 21.32
Linking CTA - 24.50
Page layout containers - 26.30
Brand Colours - 32.34
Add a button - 33.38
Forms - 34.30 / 36.58
Hide/Show - 18.40 / 35.00
Metadata record quality - 36.00
Images drag and drop - 39.30
Bulk imports - 40.30
Hannah Wrap up - 41.00
Gareth (applications) - 44.10
9 squares - 45.46
1 Database - 46.20
Surveys - 46.50
CRM - 48.00
Engagement Score - 50.20
Calendar Sync - 51.00
Marketing Automation - 52.35
Ecommerce - 53.48
Other applications 54.00
Sales - 55.53
Support - 57.05
Google Analytics and End of Life for GA Universal - 58.05
Q&A
If you'd like to book for our next upcoming event, click the links below!
Event - Mammoth Hunting
26th May 2022 09:00 - 12.00 or 13.00-16.00
(Choose either AM or PM half day when booking) (please bring 1-2 colleagues with you to make the territory mapping effective)
Hosted by Intergage and Anthony Willoughby from the Nomadic School of Business, this strategy workshop is growing in adoption across the UK and abroad, and now Intergage clients have the opportunity to meet with Anthony and look at your business strategy from a unique point of view. This unique methodology enables bold leaders to unlock and tap into incredibly valuable and under-utilized wisdom, knowledge, and experience already in their organization so that they can make better, more inclusive strategic decisions and thus thrive and adapt in these changing and hostile environments.