Google's Universal Analytics no longer processing data from 01/07/2023
Mar 2022

Google Analytics made us aware last week that Universal Analytics will no longer process new data from the 1st of July 2023. This has been on the cards for a while with the launch of Google Analytics 4, but what does that mean to you?
A bit of the history
Google Analytics launched in 2005 following the purchase by Google of a solution called Urchin. This solution was made freely available to website owners. This allowed website owners easy access to free data on their website and the visitors to it and had rapid uptake.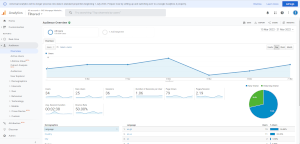 Many of our clients use it, and if you have not been looking at the analytics for your website, we would wholeheartedly recommend that you do as this can provide meaningful insight into what your users, clients, and prospects are looking at on your site.

Since its launch, there have been several iterations of Google Analytics enhancements or changes to account for things like Google Tag Manager (another free solution to help with both Google tracking and third-party tracking code implementation without the need for a deployment). In October 2020 Google announced the launch of Google Analytics 4 which is a radical shift from the approach used to date. Indications currently are that this can be achieved either using the GTag Global analytics code snippet or using Google Tag Manager.
What does this mean to you?
If you actively use analytics to make business decisions on your website you will need to either implement GA4 or another analytics solution before July the 1st next year.

When should I make the change to my analytics tracking?
Intergage Marketing Systems would advise moving sooner rather than later so that any newly implemented tracking solution can gather data in plenty of time prior to Universal Analytics being switched off. That way you have historic data to reference moving forward.
Intergage Marketing Systems are actively investigating solutions now to understand what is available in the marketplace to make a recommendation on the way forward. Do I need to do anything right now?
For the time being, the answer is no, Intergage will be providing additional updates as we investigate further and become more informed to advise on this change and its implications soon. We will be publishing blog posts and sending around an analytics-based newsletter for all our clients, outlining our findings and advising of the options that are open to you.
Should you have any questions please do drop us an email or get in touch and we will be happy to talk through what we know at this point and outline any potential routes forward.
The article from Google can be read here.
The IMS team