Mammoth hunting
Mar 2022
Mammoth Hunting
You have probably never considered mammoth hunting as professional development, but we can assure you it is as fun and ferocious as you would expect!
Let us explain…
While we can't actually take you back in time to the arctic tundra, with fur-lined snow boots and a bow and arrow…. we can take you on a similar, metaphorical journey that lets you explore your hunting ground, map out your territory, identify threats and opportunities for growth. This is ancient wisdom for modern times and it's surprisingly effective.
Territory mapping is a creative workshop for business leaders. You will discover a new way to communicate business strategy and collaborate with your leadership team. Shortcut the strategy process. Make and communicate plans quickly without having to spend weeks in endless strategy sessions going around in circles.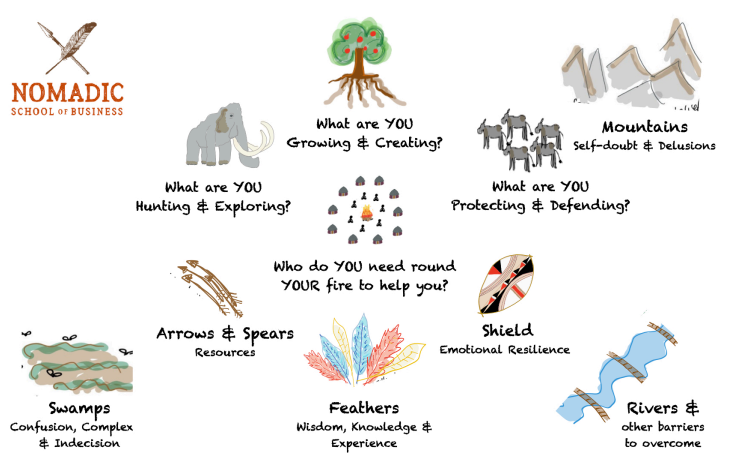 It is run by the very colourful and more-than-slightly-eccentric Anthony Willoughby. Anthony has travelled the world gaining knowledge and wisdom from hands-on research with Indigenous communities. He has spent the last thirty years sharing that knowledge with corporate executives across the globe. His clients include Google, Bill Gates, and Warren Buffet.
His teachings are based upon his understanding of what it means to be part of a tribe or community, the worth of the individual, and how the tribe benefits from the talents and values of each member. To get an idea of what you will be in for its well worth checking out his TED talk (only 9 minutes) here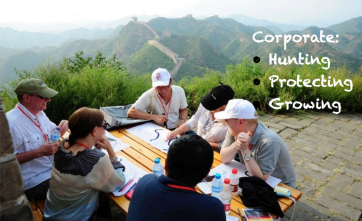 Intrigued?
So, were we. Then we discovered the beauty and joy of its simplicity. Ancient questions that still ring true down the centuries...
You'll be asked to consider:
What is your territory?
What are you hunting?
What tools do you need to hunt with?
What are you farming and protecting?
What are the feathers that you pass out to your tribal heroes?
Who has earned the right to sit at your fire?
Territory Mapping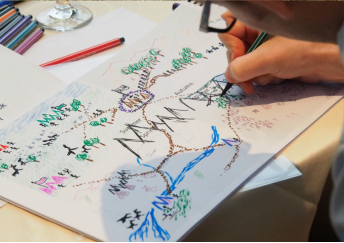 You'll learn to create a map that will illustrate graphically and with total clarity:
your business situation
your challenges
the opportunities
the threats
your tribe is facing. You'll discover how creating a map helps others to quickly communicate their situations to you with honesty and clarity.
What you will gain from territory mapping:
A new tool to bring your people together

A new methodology to gain clarity about the most challenging issues and barriers your business is facing

A new system to engage your leadership team (and their teams) in a sharing a common vision

Outlining the individuals' roles they might play in that success.
It is one of the most engaging and memorable company idea-building experiences available. It's a prehistoric and natural way to illustrate your modern-day business strategy.
"Territory Mapping enabled us to fundamentally reappraise what it was we were trying to do and how best to achieve our goals. Honestly, such gems you could not make it up. It's like mining gold" - Matt Broadway, former Group Commercial Officer, Dyson
"The great value of process was that it gave people who know each other quite well the opportunity to look at the issues through a different lens. I found the mapping process in particular really short-circuited the conversation and got to honesty much quicker." - Nick Kitchen, Global HR Manager IT, Unilever
"Good luck to you" - Warren Buffett, CEO of Berkshire Hathaway
There will be a limited number of these 'Mammoth Hunts' that Intergage is running in 2022, the first one is in April.
Have a look at our events page to book your team online now