What is Marketing Automation and Why is it Important for Business?
Aug 2022
What is Marketing Automation

Marketing Automation is a process of using software to automate marketing tasks. Marketing automation can help businesses save time and money by automating tasks that would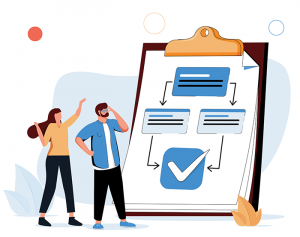 otherwise need to be done manually. It can also help businesses to target their marketing efforts more effectively, allowing you to adapt your marketing strategy to better meet your customers' needs.

Marketing automation can be a powerful tool for any business, and it's important to understand how to use it in order to maximize its potential.
Why is it Important for Business?
Marketing automation can save your salespeople valuable time by automating repetitive tasks, such as sending out email marketing campaigns or following up with customers who have been inactive for x days or y months.
By automating repetitive and time-consuming tasks, businesses can free up salespeople to focus on more high-value activities, such as developing new leads and closing deals. In addition, it can help to create a more seamless customer experience by providing a consistent flow of educational and helpful information.
By using marketing automation, businesses can develop a deeper understanding of their customers and create more customised marketing messages. As a result, businesses can improve their bottom line by increasing sales while reducing marketing expenses.
With marketing automation, you can use automated systems and strategic follow-up to nurture the leads without the fear of losing touch. You can also do it without having to rely on a salesperson to remember to follow up - always a risk!
Customised strategies can be triggered automatically by customer behaviour. If someone's behaviour on your website makes it clear they are interested in a specific product, you can deliver a follow-up campaign tailored to that product without requiring an employee to remember to do it.


Thank-you emails

Send thank-you emails after a user purchases something from your website, downloads a file, or attends an event. Send educational material enabling your customers to get more from their purchase - quick-start videos, tutorials, or explainers such as "Five features of our product you may not know that can save you time".

Reach out to people visiting key pages on your site
By tracking every contact's activity on your website, and by knowing which pages they visited, your team can now reveal opportunities that were previously hidden. This means every subsequent call or contact can be personalised to a greater degree.
As the relationship deepens, you can arm your salespeople with new insights by showing them which blog posts the prospect has read, which videos they have watched, which guides they have downloaded as well as which emails they have opened and read.
Tracking with Marketing Automation
Most people don't like things that can't be measured and improved. Neither do we. Too often marketing is seen as an almost random series of disconnected promotional events. It has to become a coordinated, systematic and professional process. Inbound marketing and marketing automation can help with this.
Our goal with inbound marketing and marketing automation is to build a process-driven system to produce a steady, scalable flow of warm and well-educated leads.
This system can be broken down into component steps that can be measured and analysed for improvement opportunities. When properly implemented, marketing automation should easily provide insights that allow you to understand the relationship between the different parts of the marketing and sales processes.
By adopting the inbound methodology and marketing automation technology you can:
See how well your promotional activity attracts attention to your content
Measure how well your content leads visitors to engage further and how many choose to trust you with their email addresses
Monitor how well your email follow-ups are received and how many further visits to blogs or website pages are generated as a result
Discover how many whitepapers are downloaded and even how many links in those whitepapers are clicked on as the document is read
Quantify how many sales opportunities have been created as a result of these interactions
Easily split test landing pages, calls to action and emails to continually improve results
Segment campaigns to give more granular reporting
And finally, you can measure how many customers and how much business these activities have generated.
Marketing automation tracks all this information for you from the minute a prospect visits your website to the moment they decide to buy from you. You can use it to continually optimise your marketing.
Sales Enablement
Combining marketing automation technology with inbound marketing can provide powerful insights into which prospects are most responsive to your marketing campaigns.
By tracking the actions taken by prospects in response to your marketing communications, marketing automation software can help you identify which individuals are showing the most interest in your products or services. This information can then be used to fine-tune your marketing efforts, ensuring that you are deploying your resources towards where conversions are most likely. In today's highly competitive marketplace, using marketing automation to inform your inbound marketing strategy can give you a significant advantage over your competitors.
Automation doesn't have to end once a warm lead is engaged by your sales team. New tools enable salespeople to interact in chat sessions, send follow-up email sequences automatically, know when their emails are opened and embed video and other rich content easily and quickly in these communications.
Read more on Sales Enablement in our Blog post.
Marketing automation is a powerful tool that can help you save time and energy while increasing your marketing reach. In order to make the most of it, you need to understand how it works and what types of tasks it can automate for your business.
Once you have a plan in place, marketing automation can be an incredibly valuable asset for driving sales and reaching new customers.
Ready to learn more?
Download our Free Whitepaper on Marketing Automation
for more information on how this technology can benefit your business.